Here are some pictures I took during the 1955 InterProvincial cricket tournament in Vancouver in 1955, and on the transcontinental train trip there and back. BC were heavily favoured to win, but Ontario actually did win. In the first game against BC (perhaps the one shown in the picture of Lower Brockton ground) Brian Christen hit the stumps five balls in a row, but didn't get a hat trick because the third one was a no-ball. In that game, we were shot out for around 132, and BC had declared at over 200 for few wickets in their previous two games. But at the interval, we agreed to charge 25 cents for a misfield and $1 for a dropped catch (multiply by ten to get today's values). We collected a total of 25 cents, for a ball viciously hooked past short square leg. He insisted on paying, when the rest of the team thought nobody could reasonably have stopped it. We put them out for 67.
---
This is a picture of the Lower Brockton Point pitch in Stanley Park with downtown Vancouver in the background. Click on it for a bigger version.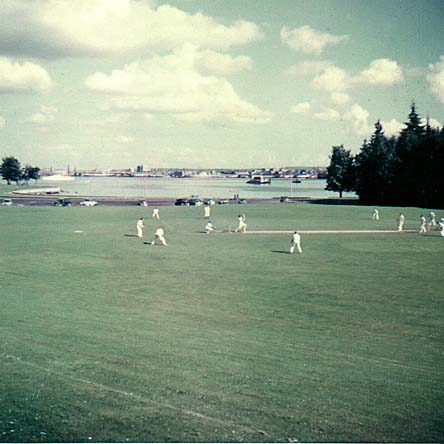 Here is Upper Brockton Point pitch, wit Grouse Mountain in the background. Even then there was some building up the mountainside.
John Slaven and Vic Walker pose on the slope looking over the lower ground. Seated in the background (L-R) Les Turner, Bert Rowe (off-spinner), unknown woman, Jimmy Chappell. The captain on this trip was Bill Creed of London. Jimmy Chappell captained the Eastern Canada side in Vancouver and Victoria three years later.
On the way back, our train stopped for an hour at Revelstoke, BC. We played catch.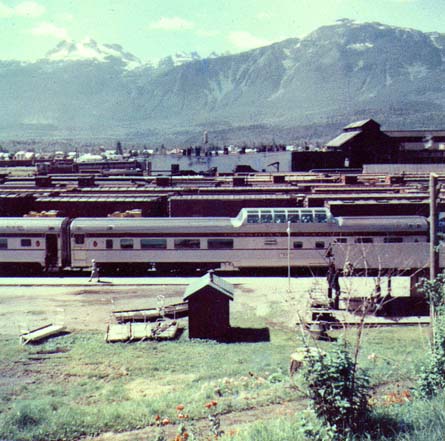 And at Golden, B.C.
This is a shot from the train, of a ship loading at Marathon, Ontario, on the north shore of Lake Superior.