Pages
Introduction
April 17-22 Rome
Arrival in Rome,
Tourists in Rome
April 22-24 Bay of Naples
Herculaneum,
Sorrento,
Vesuvius
April 24-27 Capri
April 27-29 Amalfi to Maratea
Amalfi Coast and Paestum,
Maratea
April 29-May 3 Sicily
To Sicily,
Sicily (Taormina),
Mosaics at Villa Imperiale di Casale,
Etna,
Valley of the Temples,
Siracusa
May 3-6 On Malta
Blue Grotto and Temples,
Valetta and Archaeological Museum,
Exhibits in Archaeological Museum
Hypogeum, Gozo and Ggantija,
Tarxien and Clapham Junction
May 6-7 Sicily, Scilla and Charybdis
May 7-8 Tropea (Capo Vaticano)
May 8-10 Puglia
Matera, Grotto, Alberobello Trulli
May 10-12 Abruzzi National Park
May 12 Tivoli, Villa Adriana
A Holiday driving around the south of Italy, Sicily, and Malta
I (Martin) had a research group meeting of three days in Rome, and Ina came with me for a holiday of nearly a month in Rome and south through Sicily to Malta. We left Toronto for Rome on a crowded Air Canada plane on April 16, just before the Papal Conclave. The temperature in Toronto was a summery 27°C.
After a good flight, we saw sunrise over the south coast of England.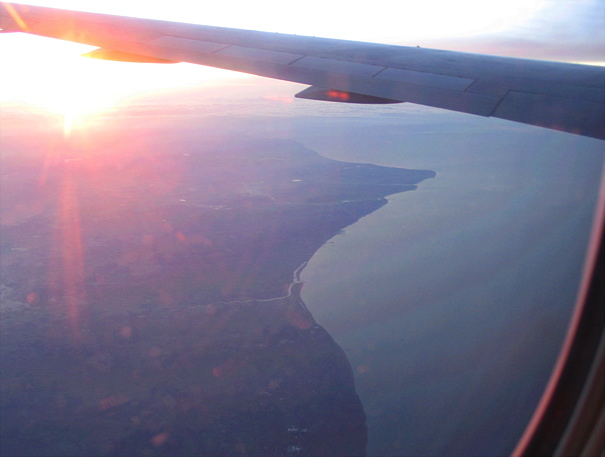 Eventually, we arrived in Rome as a cold front was going through, with the temperature at about 14°C, and heavy rain showers through most of the day.
We had a couple of days to wander around Rome, one in the rain, one in nice but cool weather, and then I had my three day meeting while Ina explored Rome on her own, before we picked up a car from Avis and started our three week, 4000 km drive south.
Our approximate route. Blue dots indicate points of interest that we visited or places we stayed.

The car was an absolutely delightful Nissan Micra Diesel, a bit smaller than a VW Beetle on the outside, but it felt like a big car on the inside. It had plenty of pep, great fuel economy (5.1 l/100 km over the whole trip) and handled very well at autostrada speed (around 160 kph), in the narrow streets of small villages, and on the extreme mountain hairpins we were to encounter. Fuel economy was quite important, when regular gas cost abour $3.30 Cdn per litre, and diesel cost $2.90.

Here it is in Sicily, overlooking the fertile plain southwest of Mt. Etna, (just west of Catania on the map).

Trip Overview

Our trip took us quickly by autostrada from Rome to Herculaneum, one of the Roman towns near Naples that were destroyed in the eruption of Vesuvius in 79 AD. We then enjoyed Sorrento (which we used as a base for a climb up to the crater of Vesuvius), and the fabled Isle of Capri.

After Capri, we went south by way of the Amalfi coast and Paestum to Maratea, where we spent a couple of days. From there we went directly to Sicily for a few days of exploration, based in Giardini-Naxos, just below Taormina.

From Catania, we flew to Malta for an extraordinarily interesting three days that included a visit to the Hypogeum, an extensive three-level underground temple carved out of the living rock between 5600 and 5000 years ago -- several hundred years before the first Egyptian Pyramid.

Returning from Malta, we spent another in Giardini-Naxos before going on to Matera in the heel of Italy, with an overnight stop near Tropea in the toe. Matera has a section called the Sassi, in which the houses are carved into the side of the cliff. Near Matera there is a magnificent cave or grotto, and nearby, in and around Alberobello are the famous "trulli" houses.

Finally, we spent a couple of days in the mountain air of Pescasseroli, which serves as the headquarters of the Abruzzi National Park. On the last day, on our way to our final hotel before flying home, we visited the Villa d'Este in Tivoli, and the nearby Villa Adriana, built by the Emperor Hadrian as a kind of representation of all the regions of his Empire.