Pictures of the Crieff Hills Community
Other pictures and floorplans are on their Website , as well as much other information about the place. These are just pictures mostly of the interiors of some of the older buildings I took on a visit with Adrienne Pluim Oct 9, 2003.
In addition to the pictures shown here, apart from the cluster of modern buildings, there are two others worth mentioning. One, close to the modern cluster, is Robert Yeats House, a place used by many groups for staff meetings and the like. It has two bedrooms that might be suited to the Music Directors. The other is a large older building behind the House of the Shepherd called the House of Ruth, much like Dove House and the House of the Shepherd in feel, but newer. It is deep in the trees.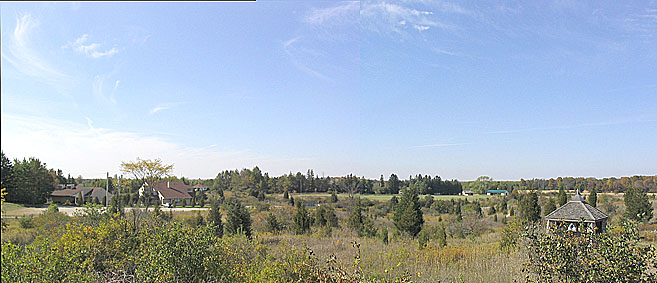 Panorama of the Western half of the community. The main cluster of new buildings (Lodges and Conference Hall) is on the left. The houses shown below the St Luke's Lodge picture are behind and to the right of the viewpoint in this picture.
The Lounge of the hotel-like St.Luke's Lodge. The bedrooms are behind the right-hand wall. I did not take any other pictures in the modern buildings. They are pleasant, standard, accommodations, usually two beds to a room, but a few with more.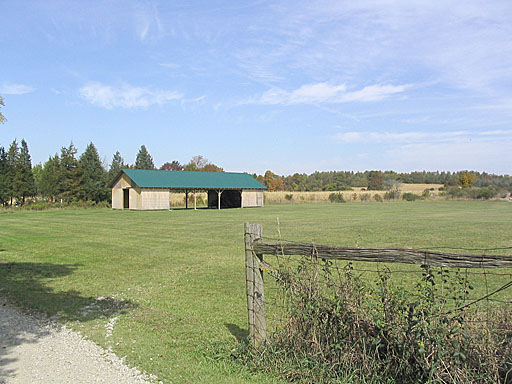 A Field house suitable for outdoor activities and possibly concerts. It will be closed in and properly floored at some future time.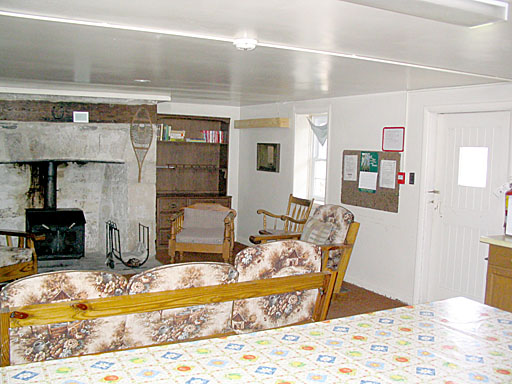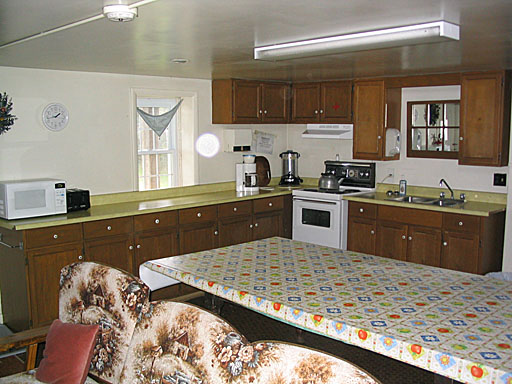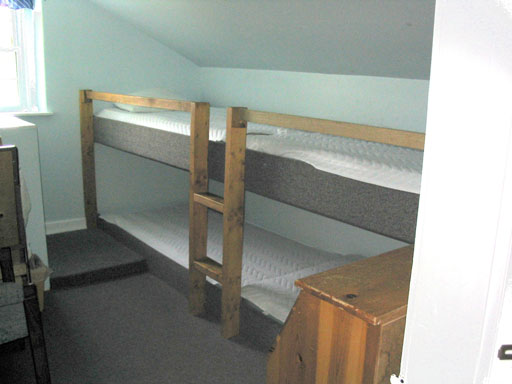 the 100-year-old "House of the Prophet" (close to the Field House shown above). The House is about 200 m from the cluster of modern buildings, along a gravel road. (Top) The Lounge. (Middle) The same lounge, looking in the other direction to show the kitchen. (Bottom) One of the bedrooms.
Amphitheatre for outdoor events (under construction)
Dove House, an old farmhouse at the Northeast corner of the road square, about 500 m along the road from the modern building cluster. (Top) The Exterior (Middle) The Lounge (Bottom Left) Downstairs hallway (Bottom Right) Upstairs Hallway.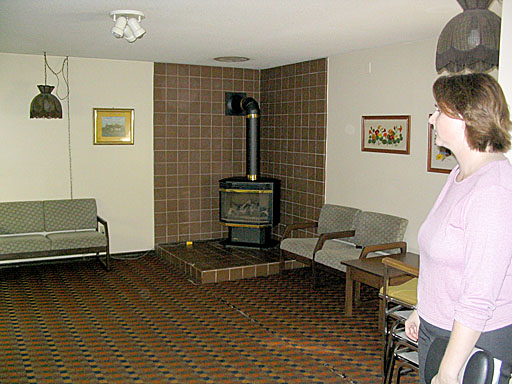 House of the Shepherd.about 300 m along a path through the field to the cluster of modern buildings (Top) Exterior, (Middle) Kitchen. (Bottom) Lounge